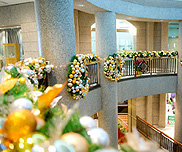 Being a prime and centrally located site with high pedestrian traffics, the Shopping Arcade in Entertainment Building assures retailers excellent exposure and accessibility.

Featuring outstanding window frontages on main roads and an oval shaped entrance foyer, the Shopping Arcade offers a range of luxury-brand retail shops, coffee shop, hair and beauty salon, etc. The covered footbridge on the 2nd Floor of the Arcade links tenants/customers to other key buildings and parts of Central easily and comfortably.

Shopping in Entertainment Building gives you a unique and extravagant shopping experience in the heart of Central Hong Kong.